Children's Hospital Los Angeles - BTS Dance Party for Patient Awaiting a New Heart
31749
6
495
04.08.2021
160460599
337000
708
04.03.2009
US
What do you get when you turn the wait for a heart transplant into a dance party? Smiles—a roomful of them. After learning that Genesis, a patient in CHLA's Heart Institute awaiting a transplant, was a huge fan of the K-pop band BTS, her entire team of doctors, nurses and Child Life specialists surprised her when they gathered around her, cranked up the hospital sound system, and began grooving to her favorite 🤍BTS WORLD Official song, "Dynamite." She knows every lyric, including "Light it up like dynamite." As you can see by Genesis' beaming grin, that's exactly what they did.
Кадры из видео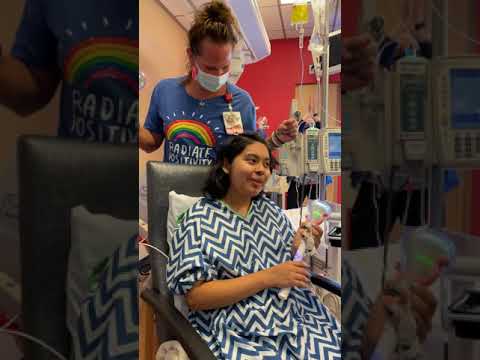 Комментарии пользователей:
노띠바킵고잉
2021-09-14 03:49:01
Oh my god this is so touching ㅜㅜ
NoBig biggalo
2021-08-28 04:21:48
💖💖💖💖💗💗👏👏👏👏👏 Respect.
Kiaju_Nerd101
2021-08-22 00:53:08
This is so sweet
Youngik Yoon
2021-08-05 19:29:11
Thanks for sharing this video. So lifting
Valentines !
2021-08-05 17:11:13
I was at the hospital a few days ago I wish I could do that 😭