How to Survive ISO 9001:2015 Third Party Remote Audit, Part 2
1898
4
21
20.09.2021
1189287
12700
53
30.09.2011
In this video, Mae dela Cruz, Senior Technical and Operations Manager of Bureau Veritas Singapore talks to us on how to manage, and "survive" remote third party audits. The pandemic has also greatly affected the way we conduct audit whether these are 1st party or third party audits. If your organization is certified to ISO 9001:2015 and are up for surveillance or recertification, take a listen and learn how you can prepare your management system based on ISO 9001:2015, ISO 14001:2015 or ISO 45001:2018, or any management system for that matter. This program was recorded live last March, 2021. Feel free to share your comments below and any additional inputs on this topic that we can all share and apply in our respective ISO 9001:2015 management system documents and records control. Thank you for watching. Our ISO consultants, trainers, auditors are ready to work with your team when you are ready. You may watch more related videos 🤍AGF Consulting Group Heard about ISO 9001:2015? If you haven't, no worries! AGF has you covered! Here's a quick video on ISO 9001:2015 in a nutshell. Find out how it works and how it can work for you and your company in this link below: 🤍youtu.be/qSVqDNOkOTo Learn about the the Plan-Do-Check-Act (PDCA) Cycle, the pertinent clauses for the requirements on ISO 9001:2015 and most importantly know how to meet and exceed your client's expectations while continuously improving your processes! What more could you ask for? Brought to you only by the best in the business on ISO Consultancy, AGF Consulting Group-PH! #ISOconsultants #ISOauditors #ISOtrainers #ISOexperts Need help on ISO Consultancy? Looking for a training partner? Choose AGF now! #thinkAGF. Watch more related videos 🤍AGF Consulting Group
Кадры из видео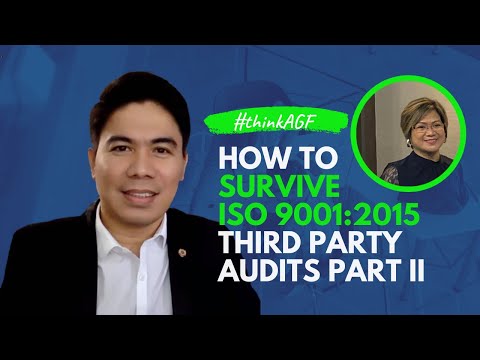 Комментарии пользователей:
alfiona
2021-10-16 22:55:03
Hello Sir, do you have any video in regards to Management audit? I have an audit coming up and i just want to know some good questions to ask for that audit?
pete moro
2021-09-20 18:28:41
Thank you AGF and Ms. Mae dela Cruz for the informative presentation. With the benefits of technology and cost reductions (for both Registrars and auditees) It appears that virtual auditing is here to stay. Question: what has been the impact to audit results based on historical data? Has there been a decrease or increase in identified nonconformances? Has there been an increase in appeals of nonconformances by auditees? What are the risks and opportunities identified by ISO Registrars in this regard?
AGF Consulting Group
2021-09-20 07:57:39
We would love to know what are you key take away(s) in this 1-hour video. Thank you for sharing your inputs, insights and comments. What you share here will probably create positive impact more than you could ever know. Together, we can all learn and advance, as one. @/thinkagf